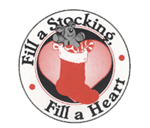 Fill A Stocking, Fill A Heart
a 501(c)3 non-profit agency | PO Box 1255 | Oregon City, OR 97045
---
Volunteer at the Workshop and Other Ways
---
Volunteers are needed to organize donations, sort items, remove price tags, check incoming filled stockings, fill additional stockings from items on hand and much more.
The workshop is in full swing starting in October getting stockings ready for distribution to the agencies.
We have moved to Danielson Hillside Mall by Safeway. The FASFAH workshop address is 358 Warner Milne Rd G103, Oregon City, Oregon 97045. We are in the strip mall across the Safeway parking lot next dor to Herbst Florist and Designer Nails. Hours depend on workshops being held, but arrangements can be made by emailing us at info@fillastocking.org or calling 503-632-0577 should you need to drop off items. Starting in November someone will usually be available on Fridays between 10am and 3pm. Parking is available in the main large lot.
We have people who volunteer all year in many ways, so contact us at info@fillastocking.org or 503-632-0577 for more volunteer opportunities.