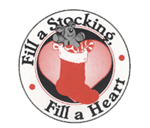 Fill A Stocking, Fill A Heart
a 501(c)3 non-profit agency | PO Box 1255 | Oregon City, OR 97045
---
Fill Stockings
---
Starting at the end of October, pick up empty Christmas stockings from one of our many drop-off sites. If your group would like a large number of stockings (10 or more) contact us by email or phone.
Select the age and gender of your choice; shop for the basic items listed here (PDF) (also printed on the insert inside of each stocking) plus some additional "special items". See the suggestions (PDF) for each age group.
Leave all items unwrapped, remove price tags, fill the stocking and mark the tag.
Return the stockings to one of our drop off sites by the First Friday of December. This allows us time to fill the many stocking requests. But we will take stockings beyond this date.
You can contact us at 503.632.0577 (messages only) or email at info@fillastocking.org with additional questions.